Hardware
Past gear is available at the bottom of the page.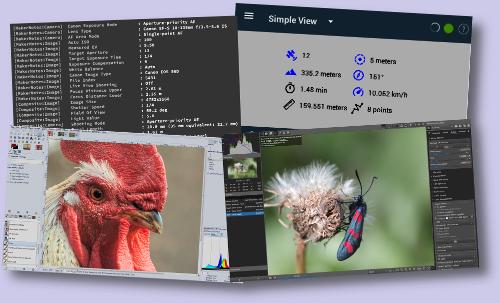 My most used current gear includes:
Canon EOS 50D

Canon EF-S 18-135 mm f/3.5-5.6 IS

67

(with Canon EW-73B tulip hood)
Canon EF 70-300 mm f/4-5.6 IS USM

58

(with Kaiser C65D solid hood)
Macro converter Raynox DCR-250 (8-Diopter)

Tripod Somita ST-3560 ( 64-175 cm; 5 kg max)
Generic macro focusing rail (two way, each rail

±

5 cm)
Canon RS-80N3 generic remote shutter ( 100 cm wire length)
Mecablitz 48 AF-1 flashlight
Meike MK-50DL battery grip and intervalometer
Power (2 sets):

Ansmann A-Can BP 511 ( 1400 mAh, up to 700 raw photos each)
Canon CB-5L (8.4 V; 1.2 A)

Mostly CompactFlash card Lexar Professional 800× (32 GB; UDMA 7; 120 MB/s)
Good, ol' Leningrad 4 light meter
Software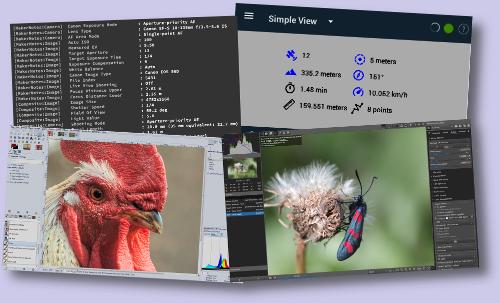 In most cases you'd need software, even if you don't want to change anything in your photo. The thing that disturbs me is when people use illegal copies. It's usually not because they need functions of such software, but... I don't know, honestly. When one uses illegal Photoshop to use basic functions, why not use Gimp? When you'd master it and install some plugins, it's even more powerful. The same is with RawTherapee. Why spend a lot of cash or get illegal version, when you can get so powerful software for free? So, here's the basic list of software I use and recommend. Every software, unless noted, can be installed on Windows, Linux and OS X.
And remember - open software is the way to go. Most freeware software is for non-profit use only and it means that you can't post it on most social services (which demand commercial license of uploaded photos). So if you'd use IrfanView to crop photo or fix colors, you can't even post it on Facebook legally.
Other software
Inkscape (GPL2) - most powerful open vector image editor. While it won't help much with photos, for me it's a crucial tool. Adding labels, highlighting parts of image, masking, adding cliparts (I mean not weird MS Office cliparts, but things like flares, clouds etc.) is very simple. Still, I use it mainly for typical vector work, like drawing comics (main website, Polish or language neutral; English only). Even if you can't draw, you can use public domain cliparts from OpenClipart, which can be searched directly through Inkscape. I also upload there my cliparts (see: Krzysiu Clipart Packs), often taken from bigger works like comics, infographics or my llama pictures. Notice the index image, done with single command of ImageMagick.
Video editing - even photographers may want a fine tools for time-lapses, morphing or video presentations

VirtualDub (GPL2; Windows only*) - heavily optimized non-linear video editor. Simple and fast. A lot of plugins exists, from simple ones like denoising to advanced ones like deshaker or logo removers. Because high level of integration with system to achieve best performance and using VfW codecs, it's Windows only*.
ffmpeg (mostly GPL2.1+) - library and standalone application behind the big video hosting services, but not only. It's like ImageMagick for videos - command line, batch processing. Mainly recoding (a lot of codecs included), remuxing, merging, splitting etc., but also basic filtering.
AviSynth (GPL2; Windows only*) - scripting language for creating and editing videos. It could be set up as frameserver, so the result of quite simple language can be viewed in favourite video player or converted to straight video file using VirtualDub or ffmpeg.

* There are ways of getting it work on Linux and OS X, usually using Wine or more difficult methods.
GeoSetter (freeware, yet allows commercial use) - almost inactive, but great tool for geotagging photos, including automatical (e.g. GPX files), manual (you can choose place from Google Maps, OpenStreetMap etc.) tagging, favourites and coordinate to place name conversion. The engine is ExifTool, so I didn't worry about wrecking image files. The reason I don't use it anymore is problem with performance of CR2 raw files. The last stable version was released in 2011. Much newer, burried in the depths of the Internet, version exists: GeoSetter 3.4.51 beta. Last changes were made in 2015, so it's possible there'll be a new version someday. On the first run it downloads the newest ExifTool version.